Penny Stocks To Watch
Looking for some good penny stocks to watch? Aside from
subscribing to newsletters
there are a few places on the internet to go hunting for tips. Like the widgit below (from InvestorsHub) with updating lists of penny stocks.
You can use these tools more effectively by combining them with other small cap strategies and tactics. I highly recommend that you subscribe to a number of free penny stock newsletters, which can provide you with a lists of hot penny stocks to watch throughout the week. (But read our newsletters page for cautions.)
The first two tools are feeds from the Over the Counter Bulletin Board and Pink Sheets markets. You can sort these lists by Trading Volume, $ Gainers, $ Losers, % Gainers, % Losers and Total Trades. In my opinion, the most valuable tabs are Volume Actives, % Gainers and % Losers. $ Gainers and $ Losers aren't as important because they will provide you with fewer winning trading opportunities and penny stocks to watch.
OTCBB Penny Stocks To Watch
An OTC penny stock refers to a stock that reports its financial statements to the SEC such as a form 10k and 10Q. These stocks are typically companies that have fallen off of the NASD exchange and are seeking redemption, or were once a Pink Sheet company that filed and was uplisted. An OTCBB stock that fails to file in a timely manor will receive an "E" attached to their ticker symbol meaning the stock in delinquency and could be delisted and moved the Pink Sheets. I personally will never buy a delinquent stock, but penny stocks to watch list always has plenty of bankrupt "Q" stocks.
Your browser does not support iframes.
Pink Sheets Penny Stocks To Watch
A Pink Sheet penny stock company does not have to formerly report any financial statements to the SEC if they don't want to. Some of these Pink Sheets companies will report financial information via a Press Release to try and provide some transparency to their investors, but remember these financial statements are typically not audited, so take them with a grain of salt. Most of the best penny stocks to watch are Pink Sheets because the have the potential for the largest short term gains. These are the hot penny stocks that you will see featured in many newsletters.
Penny Stocks To Watch on Twitter
Twitter is a great place to find penny stocks to watch. This is because many of the stock promoters and penny stock traders will post running stocks on their Twitter feeds. Oftentimes, this gives you an opportunity to get in early before the masses do. You will also discover that many popular penny stock newsletter plays are leaked early by people in the know and several newsletters will tweet their next play before sending out their mass email alert.
Video Charts
YouTube and similar video sites are starting to become a place to get tips on penny stocks, along with some insight on technical analysis of charts. Our roundup of recent video picks can be found here.
Penny Stock Newsletters
I also recommend joining a few penny stock newsletters. It's the easiest way to get a few good picks and find a few penny stocks to watch, but you need to understand how the game works. Once you are in the know, these newsletter email alerts are you cue to sell. If you are new to trading penny stocks, sign up for as many newsletters as you can under a dummy email account and track their results. You'll find that many of the companies are related and are promoting the same stock, but they will rotate who is the first newsletter going out on a new promotion.
Remember, their job is to get you hyped up and excited about the stock, so that the company can dilute and sell shares to you or the person that hired the promoters can sell shares to you. They will write fantastic reports about the company saying stuff like:
1. Their product is the next big thing! Here is how it is going to revolutionize the world. Penny Stock Newsletter #47 is going to make you rich!
2. Do you remember our past pick $RICH, well we think our newest penny stock picks $CRAP and $JUNK will have even larger gains.
3. The "Gold/Oil/Green/Technology/Whatever Big Board Sector is Hot" is booming, stock $WIN might be the next "Microsoft/Google/Apple/Exxon."
4. We are about to announce this year's hottest penny stock pick. Stay tuned for the next e-mail.
Now I know it sounds like I am bashing all penny stock newsletters, so I want to say there are some really good ones that I've made thousands from. Some are free, but most of them are premium or private lists. This Year's Winning Stock Newsletter might be Next Year's Bust. So don't just start following one and write off all the others.
For example, here is the hot penny stock $ZVTK that was alerted by several major penny stock newsletters. As you can see this stock had a 3 month run and produced over 1000% gains.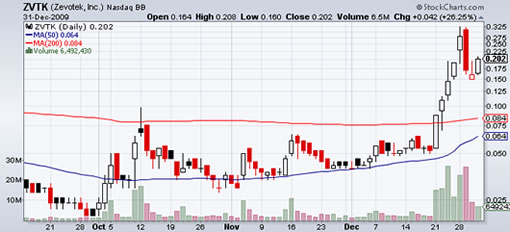 Another great example of a penny stock alerted by a newsletter was $GOIG. If you entered around .0006 and sold at .033 you could have made $55,000 for every $1,000 invested over about 3 months.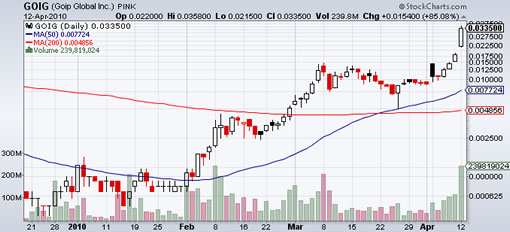 Penny Stocks To Watch Tips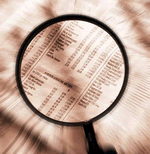 The best way to consistently find hot penny stocks to watch is through trial and error. You need to develop a winning system that might include stock chart technical analysis, developing several penny stock trading alerts and understanding fundamentals when you have the time to research. If you decide to become active on a penny stock forum, this will help you figure out who can be trusted in your network and who is just trying to sell you their shares. You'll quickly find that many people want to give you penny stocks to watch.