Trading With EquityFeed Software
EquityFeed Review
EquityFeed is a sophisticated stock trading software application that helps you identify profitable trading opportunities. Whether you trade the big boards or penny stocks, EquityFeed gives you the edge in the market. The software is easy to use and intuitive. There is also an EquityFeed Trial Version available to new users.

What I like about EquityFeed is that it is easy to create scans and use them to identify recurring events in the market. Once you set the criteria, it pulls results in real-time, so you'll no longer have to hit the refresh button. It also gives you the option to have a pop-up or audible news alert, which can filter from NYSE, NASD, AMEX, OTCBB and PINKS. The software also uses colors that are easy on the eyes, which is different than many other direct access software programs currently available.
I've used several other platforms and couldn't stand looking at them for more than a few hours as the numbers would start to blur together. EquityFeed's platform is very intuitive and clean cut, and I've found it easy to have twelve or more daytrade montages running at any given time. I also like to have the news alerts, personal watchlist and streaming algorithmic filter open on my third monitor.
EquityFeed Features
I've included a few references from the EquityFeed Website, so that you can see how powerful this trading software is. They do offer a 30 Day Trial and to get the most out of the software be sure to add the Level 2 Quotes package. If you are already using Level 2 Quotes, then I don't have to tell you that you shouldn't be trading without it.
Stock Filter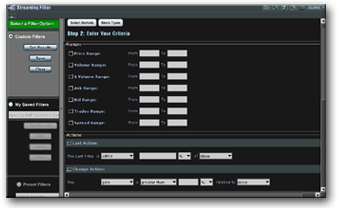 This is really where it all begins. The streaming algorithmic filter allows you to filter through thousands of tickers in real-time to find profitable trading opportunities. One of my favorite strategies is to create a list of yesterday's largest gainers and then look for an intraday pullback. I also use this filter to keep track of stocks that are breaking out or have made a new low. I often combine this with a covered call or put option for easy day trading.
Technical Trading Alerts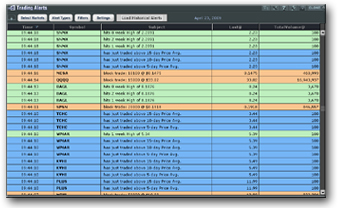 The technical alert filter is useful if you like to trade on moving averages, like price or volume. I don't use it nearly as much as the streaming algorithmic filter, but it is useful for finding running and falling stocks because it constantly alerts a new price breakout or breakdown. This is helpful because you don't always see the blink on the main filter. The technical filter can also detect block trades.
Daytrade Montage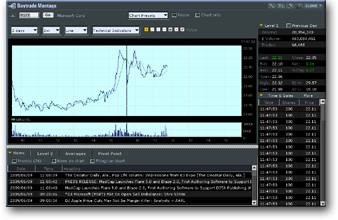 This is the main window I use to monitor price action. I typically don't use the line chart as I prefer candlesticks and I typically uses a different application for more advanced charting. The daytrade montage is meant to give you a general overview of what is going on. Here you can find the latest news and level 2 quotes. On the right is also level 1 quotes and time and date of sales.
Market View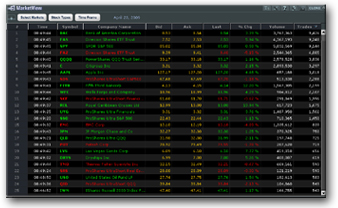 This is one of the best features of EquityFeed because you can minimize it into a small window to see how many stocks are up or down on a given day. When expanded as shown above, you can see a list of the days largest gainers and losers. This can help you plan a gap up or gap down trade, or potentially a rally before closing. It also keeps a list of the most active stocks including volume, dollar volume and number of trades. You'll also find information like price, net change, percent change and much more. You can customize this window with many different displays and then save it to your profile.
News and SEC Filings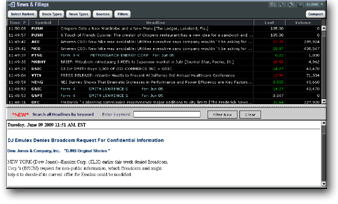 This is perhaps my favorite EquityFeed feature, as it really gave me the edge in the market. Beating other traders to an opportunity is critical. I've found that EquityFeed syndicates the press releases five to twenty seconds before other penny stock brokers like Ameritrade and Etrade make it available on their system. This is especially useful if you are trading penny stocks because the price can jump 10-20% in seconds. You can also monitor the dollar volume on a stock to see if it is liquid enough to trade. Another strategy I use is to buy positive news and then wait for it to be announced on CNBC. I wait a few minutes for the CNBC viewers to enter their trades and run the price up. Then I sell to them and take my profit.
Level 2 Depth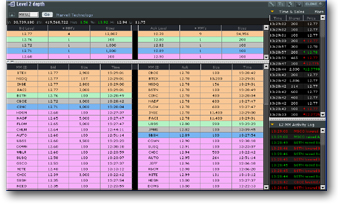 This shows market maker movement and logs, but I prefer to use the Daytrade Montage as it makes more information readily available.
Limit Alerts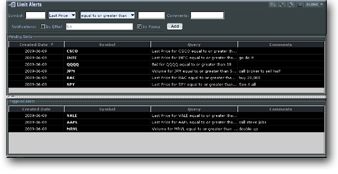 This EquityFeed feature takes limit alerts to a whole new level. If you notice a pattern, you can set a limit alert to pop-up or send an e-mail when a particular price, volume, bid, ask, etc is reached. You can leave yourself a note reminding you what to do in that situation, so you don't have to hesitate. For example, I might create a limit alert for stock ticker ABC at $2.50 and save a comment saying double bottom to remind myself of the technical pattern. These limit alerts stay live until you cancel them.
Personal Watchlist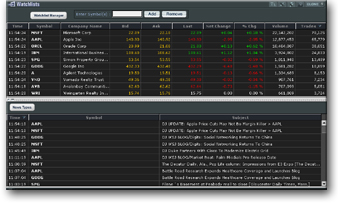 Many traders underestimate the power of having a good watchlist. What I like about EquityFeed's watchlist is it shows everything in one place including price, bid, ask, volume, dollar volume, trades and news all in one place. I usually keep two lists, one with the stocks in my portfolio and another with potential trade opportunities.

If you would like to make more profitable trades and develop a repeatable, consistent winning strategy then consider starting your 30-Day EquityFeed Full Version Trial today.